TRBOnet and MNIS on different Computers
The article was successfully sent to the email
1. Install MNIS and configure it to connect to the MOTOTRBO system.
2. Enable "IP routing in Windows" at the Computer where the MNIS is installed
Go to
Start
and search for
cmd
or
command
.
Right click on either
cmd
or
command
then select
Run as administrator
.
At the command prompt type regedit.
Navigate to
HKEY_LOCAL_MACHINE\SYSTEM\CurrentControlSet\ Services\Tcpip\Parameters
Locate the
IPEnableRouter
setting, right click on it and select
Modify
.
Change the
0
to a
1
and exit the editor.

3. Enable service "Routing and Remote Access"
After exiting
regedit
and back at the command prompt, type services.msc and navigate to the
Routing and Remote Access
service.
Right click and select
Properties
.
Change to
Automatic
then click on
Start
to start the service.

4. In TRBOnet Server Configurator, MNIS DATA service section (right pane), untick "Service is on a local host" and specify the IP address of the Computer with the MNIS. On the example it is 10.10.188.185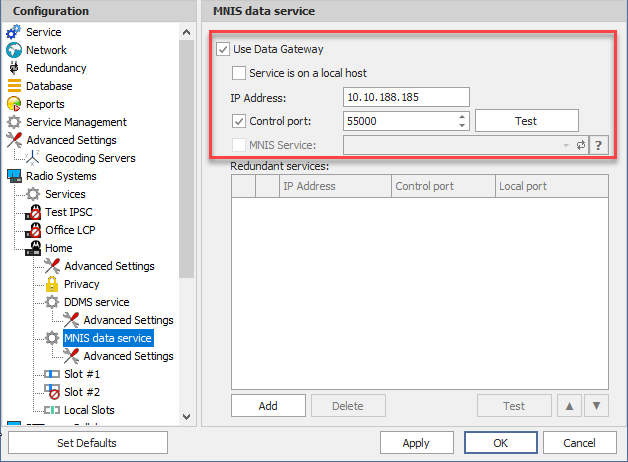 5. Option for Manual Port Forwarding Rule configuration in MNIS
In the TRBOnet Server, in the Advanced settings pane to the right, tick the following two options, "Add network routes to the Windows Routing table"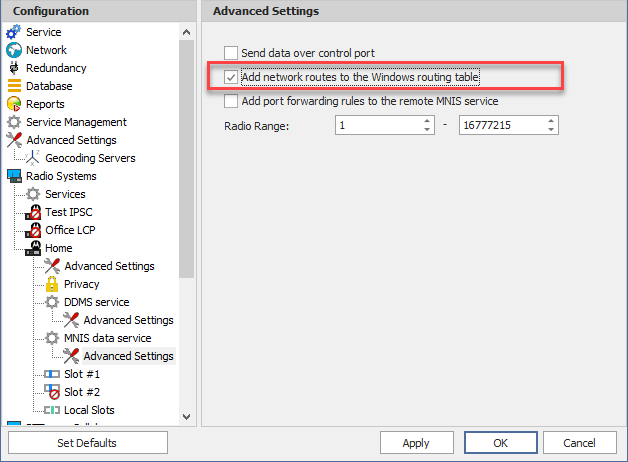 How to configure Data forwarding rules to a single or several Servers.
On the example figure below (MNIS Port Forwarding Rules), TMS and Location UDP ports are forwarded to IP addresses 10.10.188.121 and 10.10.188.120 respectively.
Which means the Data will be forwarded to the computers with specified IP addresses where TRBonet is installed.
Text messages (4007) to 10.10.188.120, Location Data (4001) to 10.10.188.121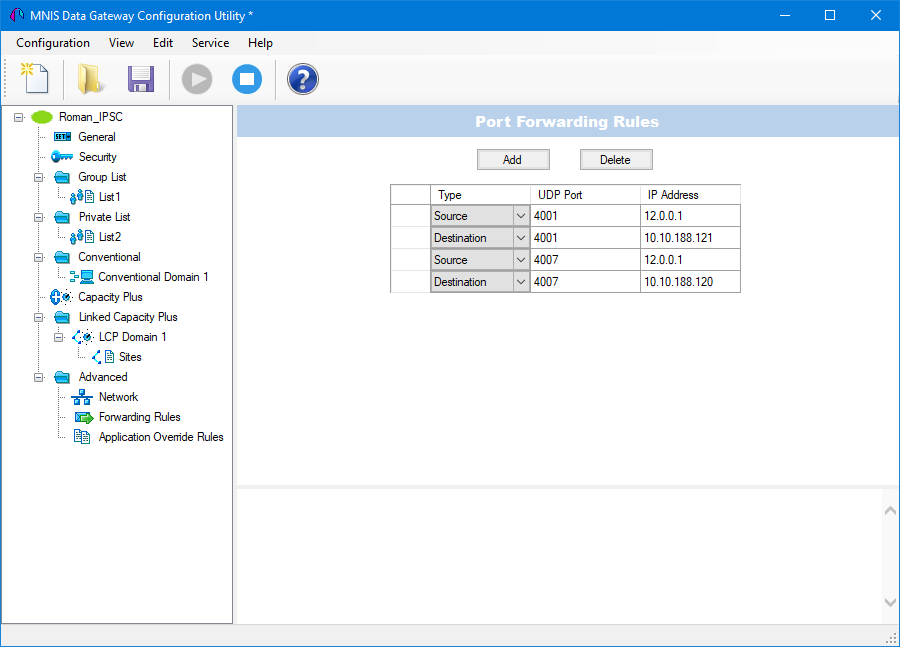 6. If there are NO forwarding rules added to the MNIS configuration, in the TRBOnet Server, in the Advanced settings pane to the right, tick all the following three options, "Add port forwarding rules to the remote MNIS service"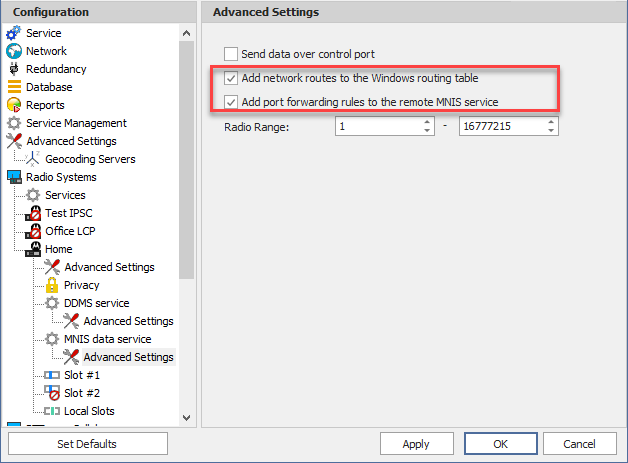 7. Example of the Route Table on the Computer with the TRBOnet