How to get the Hardware ID
The article was successfully sent to the email
Hardware ID uniquely identifies a computer and is used by TRBOnet team to generate a license.
There are two methods for getting a PC's Hardware ID. First method requires launching TRBOnet Server Configurator, the other one uses a separate tool to get the Hardware ID.
The first method:
1. Open TRBOnet Server Configurator using the shortcut on your desktop or navigate to
Start -> All Programs -> Neocom Software -> TRBOnet.Enterprise -> Server
to locate the program.
2. Once the windows is opened, navigate to
License
in the
Configuration
pane, then click on the
Copy to clipboard
button on the bottom right corner of the
License
pane.
Paste the information into any text document (for example, your email body) and send it to the TRBOnet team.
Sales:
info@trbonet.com
Support:
support@trbonet.com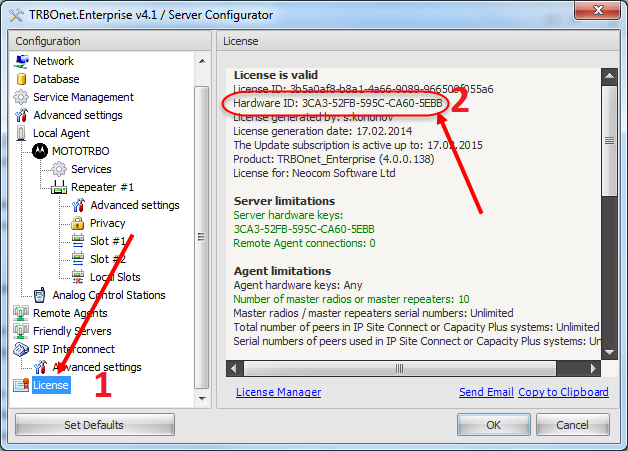 The second method:
Download the
TRBOnet.HardwareGenerator tool
:
Then, extract the TRBOnet.HardwareGenerator tool to the selected directory on the PC and double-click on the TRBOnet.HardwareGenerator tool shortcut.
The TRBOnet.HardwareGenerator tool automatically creates your Hardware ID. Copy and paste the data to any text document (e.g. email) and send it to the TRBOnet team.
Sales:
info@trbonet.com
Support:
support@trbonet.com